Skip to Content
The 19th Hole Bar & Grill
Fuel up for a day out on the greens, or enjoy drinks and shareable plates after a round of 18 holes. The 19th Hole Bar & Grill offers delectable breakfast and lunch plates with classic American flair, including salads, sandwiches, wings, and smoked fish dip made with mullet.
Championship Course
Lagoons Course
Par 4
Hole #1
While it's a short opening par 4, this hole requires strategy. At only 245 yards from the men's tee, a drive of 175 yards will leave a nice 70-yard approach to a well-bunkered and undulated green.
Par 4
Hole #2
Another good opening hole at 334 yards, those with confidence in their driver will definitely want to roll the dice off the tee, but the average player may want to play for placement.
Par 3
Hole #3
This is where things start to get interesting. This hole is a long par 3 at 192 yards. Choose your club selection wisely – anything from a 3-iron to a fairway metal.
Par 5
Hole #4
This hole is the first of our four par 5s and a great chance for a birdie given its length (only 485 yards). Take the opportunity to go for the green in "two" or play a lay-up for strategic positioning.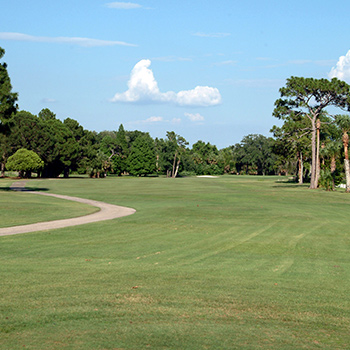 Par 4
Hole #5
Want to 'grip it and rip it?' Here's your chance on this par-4 that plays 326 to 341 yards.
Par 4
Hole #6
On the sixth hole, your tee shot must find the fairway directly with trees out of bounds located on the right and a small water pod located on the left.
Par 5
Hole #7
A good birdie chance awaits on this par 5, 529-yard hole, with homes down on the right and trees on the left. Two well-placed shots make for an easy approach to a sloping green.
Par 3
Hole #8
A rather long carry above water to a welcoming green shouldn't pose a problem for most players. Wind can cause havoc, though, so be mindful of your distance.
Par 3
Hole #9
Returning to the clubhouse, this short par 4 provides a good opportunity for you to make a birdie before you grab a hot dog at the next turn.
Par 3
Hole #1
The players from 165 to 185 yards as a par-3 over water. Big hitters can leave their drivers in the bag and go for the green.
Par 3
Hole #2
A par-3 that stretches from 124 to 131 yard: you'll be challenged by the subtlety of the green.
Par 3
Hole #3
Another risk-reward par-3 that plays from 116 yards. A long tee shot will require deft pitching.
Par 4
Hole #4
The course gets a little longer on this hole playing from 345 to 360 yards. Again, your shot must be at it best.
Par 4
Hole #5
At 418 yards, the #2 handicap hole on the course is a true masterpiece! You'll need a long, precise tee shot, as the fairways are well-guarded by native oaks.
Par 4
Hole #6
Like its predecessor, you can go for the green or play safe from the tee on this par-4 measuring 320 to 333 yards.
Par 4
Hole #7
The longest par-4 on this nine, you'll need a series of great shots for birdie or par. The hole is 385 to 415 yards depending on the tees you select.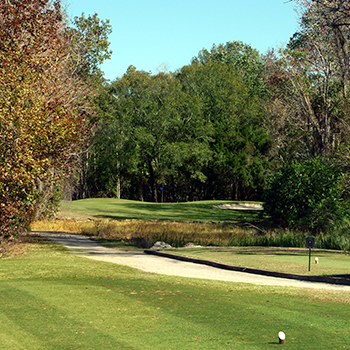 Par 3
Hole #8
A fun, short par-3 where birdies abound. Its's only 120 to 155 yards.
Par 3
Hole #9
The finishing holelagoons number 9.jpg islagoons number 9.jpg also a great birdie opportunity at 135 to 145 yards.
Par 4
Hole #10
With O.B. on the left, a skillful drive placed down through the central left side of the fairway offers the best possible approach to the green.
Par 5
Hole #11
This hole presents a challenge and may be an opportunity for a birdie, but to escape with par is a good score. At 552 yards from the back tees and 537 yards from the regular tees, shot placement is paramount to scoring.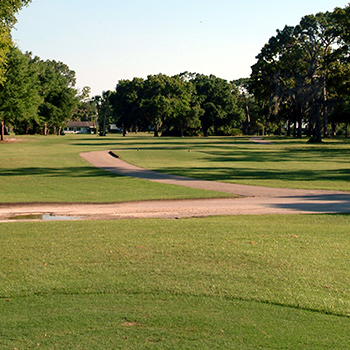 Par 4
Hole #12
A stout par 4 at 410 yards, you'll enjoy biting off as much as you can chew on this hole. Keep your tee shot down the left side to open up the hole for your approach.
Par 4
Hole #13
There's no let-up here where the hole measures between 385 and 421 yards. With majestic oaks on the left and water on the right, your tee shot must find the fairway to be successful.
Par 4
Hole #14
A short par 4, the hole gives the player and chance to relax a bit off the tee. While only 356 yards from the tips, players are often greeted on the green by devilish hole locations surrounded by well-sloped side bunkers.
Par 3
Hole #15
Watch out for trees that protect the course and an undulating green that'll keep your putter's attention. This hole plays from 175 to 193 yards but provides bailouts if necessary.
Par 5
Hole #16
A relatively benign par 5 towards the end of the golf course, this short hole gives the player a good opportunity for birdie as it plays from 450 to 484 yards.
Par 3
Hole #17
Choose the right club on this par 3, as the deep green can add a club or two to your iron selection while you play this straightforward hole from either the 171-yard tee or back at 182 yards.
Par 4
Hole #18
The closing hole is short enough from the tips to offer a birdie opportunity. Take dead aim from the tee – you've got to hit the drive between the trees on the right and water on the left for a good chance at birdie.